Water Heater Repair
Does Your Water Heater Need To Be Repaired?
If your water heater has a slight leak or is not properly heating your water, you might be able to repair it rather than pay for a full replacement. However, pay close attention to detail because if your water heater is leaking around the base of the tank, is erratic in behavior, or is 8-10 years old then it is probably time for a replacement rather than repair. Regardless, you can contact your local plumbing experts at All Star Plumbing and we will let you know exactly the best course of action.
Common Water Heater Issues That Can Be Repaired
Troubleshooting even the most basic issues pertaining to your water heater can be stressful due to the importance of the device itself. Nobody likes taking cold showers in the morning or living with a strange smell in their home. Here is a list of the most common issues and how to address them:
Water isn't getting as hot as before

– This is probably the most common of all water heater problem. Oftentimes this issue arises due to a faulty thermostat or heating valve.

Light sizzling sound

– This could be due to a slight build up of residue in the tank. You can empty the tank and scrape off the unwanted sediment.

Leaking pressure-relief valve

– If this occurs you need to replace the valve.

Pipe leak

– If you notice a pipe leak you can attempt to tighten the fittings around the pipe. If the leaking persists then turn off the water and replace the fittings.
Water Heater Maintenance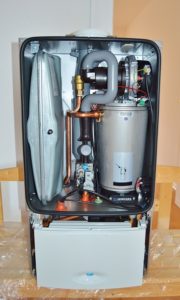 If you've recently replaced your water heater or purchased your first, you might be interested in learning how to perform upkeep that will increase the life of your device. Here are some minor things you can do to help improve the performance and longevity of your water heater:
Lower the temperature

– By lowering the temperature setting to 120 degrees Fahrenheit, you can decrease the amount of damage caused by overheating.

Drain the water twice per year

– By draining the water you also drain the sediment that might otherwise build up and harden at the base of the tank. This will increase efficiency in and improve longevity.

Test the pressure-relief valve

– You conduct this test by lifting up on the valve's handle and letting it snap back into place. This action should send a surge of water into the overflow drain pipe; if not, install a new valve.
Whether your water heater is 2 or 5 years old, the chances are that proper maintenance and repair could prevent you from having to pay for a full replacement. If you need assistance in Columbia, MO or the surrounding areas, no need to worry — the experts at All Star Plumbing would love to assist with your water heater repair and maintenance needs!